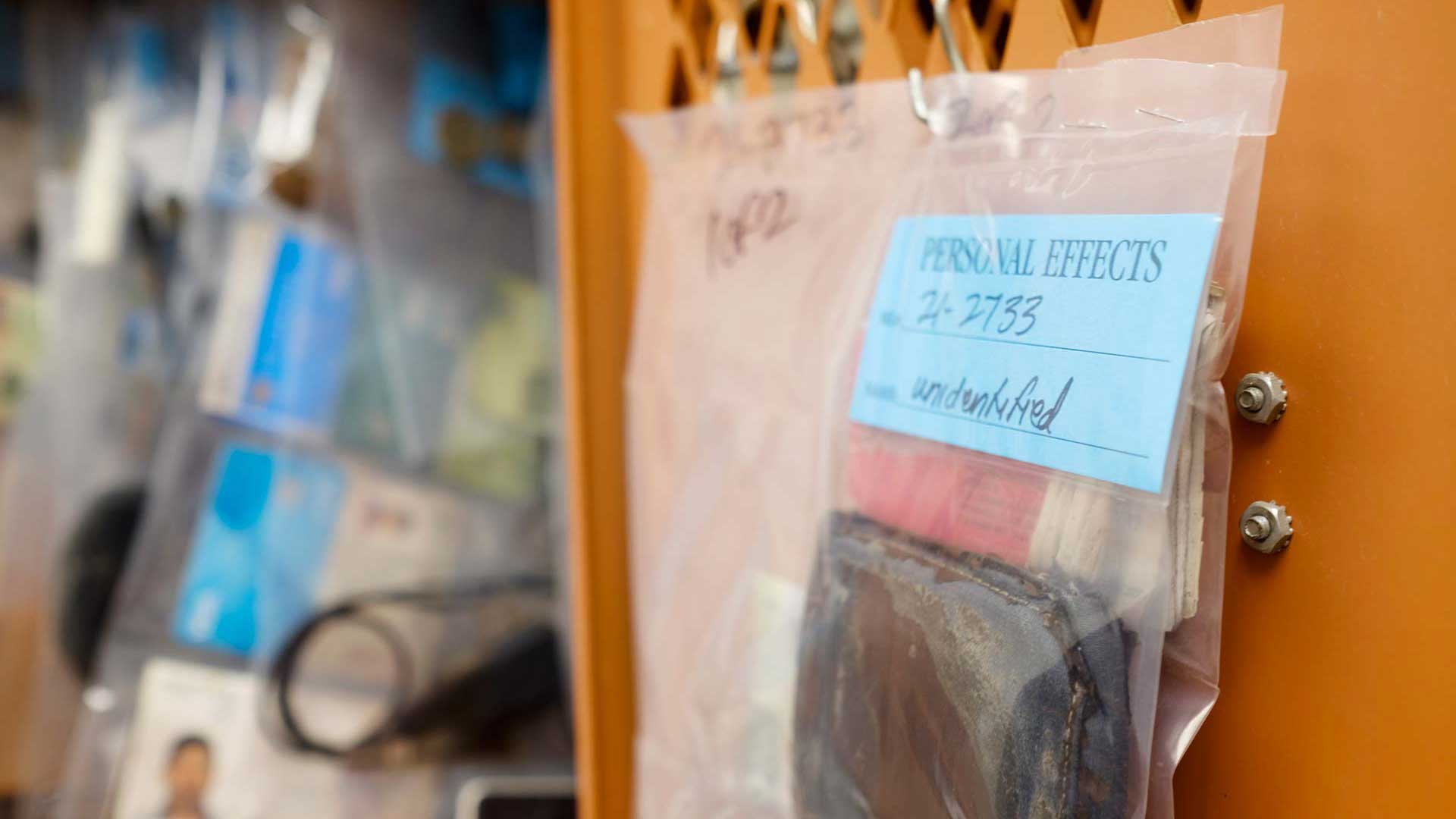 Lockers at the Pima County Medical Examiner's Office contain belongings recovered alongside migrants who died in the desert. Death investigators use the items to help determine the person's identity, and return their remains to family.
Alisa Reznick/AZPM
A new report found that the way the Pima County Sheriff's Department responds to distress calls from undocumented migrants lost in the desert is discriminatory, violates the department's own standards of conduct, and has led to deaths and disappearances that could have been avoided. The sheriff's department disputes these findings.
Advocacy group No More Deaths reviewed more than two thousand 911 calls handled by the Pima County Sheriff's Department from the summer of 2016 to the summer of 2018, a sample of 64 emergency calls transferred to Border Patrol in June 2022, and another 4 cases of English speakers calling for emergency search and rescue during the same month, which No More Deaths obtained under public records law.
Parker Deighan, who worked on the report, said what they found was a segregated and discriminatory system where calls are treated differently based on whether the caller dialed from a remote border region and didn't speak English.
"What we showed was not only that the system is discriminatory, on the basis of immigration status, which is against Pima County's own protocols, as well as, we contest it's unconstitutional and violates the 14th Amendment," Deighan said.
The report found the dispatcher immediately transferred calls to Border Patrol, they collected no information from the callers, and the dispatcher often didn't speak Spanish or understand what the caller was trying to tell them, all of which likely contributed to deaths and disappearances.
Pima County Sheriff Chris Nanos disputed the report's findings, saying the department decides whether to transfer a call to another agency based on proximity alone and not what language a person is speaking.
"No matter where you're at in this county when you call us and you tell us, 'Hey, I'm lost,' or 'I need help,' we're going to send you the closest unit available, and sometimes that happens to be another agency," Nanos said
When asked about instances in the report that demonstrated otherwise, some of which were during his current tenure, which began in 2021, Nanos said that unless he was provided with a case number where he could look at specifics, he's going to say the accusations are false. He said the report's authors should call him directly to voice their concerns — about the records they received from his department.
No More Deaths looked at 64 cases specifically from June of 2022 and found that in 17 of them, the person wasn't found. In none of those cases did the advocacy group find any record of the Sheriff's Department doing any ground search with either deputies or their search and rescue team which has 200 to 300 volunteers.