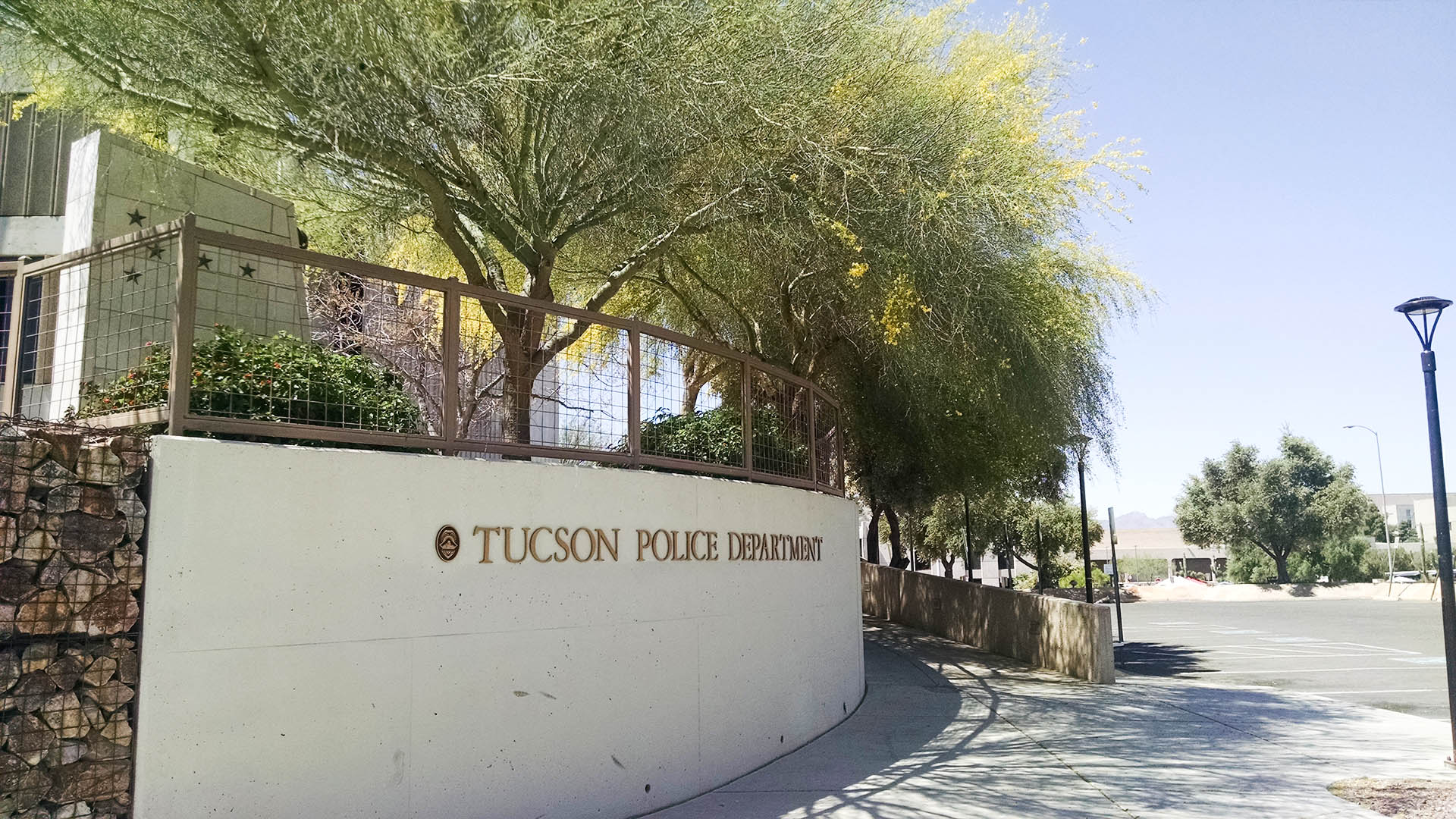 The sign at the downtown Tucson Police Department station, South Stone Avenue.
Nick O'Gara/AZPM
After nearly five years, a Tucson Police Department initiative meant to target drug misuse is seeing effective results.
The Pre-Arrest Deflection Program, which launched in 2018, allows for officers to use discretion to assist those struggling with substance-use problems instead of making an immediate arrest. It has led to a reduction in arrests and resulted in additional treatment for people with substance misuse issues.
Since then, the Southwest Institute for Research on Women found that over a three year period, there have been on average 59 deflections per month.
The institute's director Josephine Korchmaros says that not only are the officers actively implementing the program, but community members are accepting of it as well.
"They're an alternative," Korchmaros said. "They're an extra tool that police officers can utilize in responding to the issue that's happening out in the community. But it's really focused on that longer term goal of addressing the underlying issue."
Korchmaros says the findings show the program is making a real difference .
"We saw that on average people who had been deflected reduced their frequency with which they were misusing drugs all the way through six months post incident. So they misuse drugs less than people who had been arrested and we also saw reductions in criminal activity over time."
The institute examined TPD data from the past three years. In that time, more than 1,782 individuals were encouraged to seek treatment instead of arrest.
It was also found that this type of approach can also save on costs. Nearly $50,000 could be saved in jail housing expenses.
" If 10% (213) of the 2,129 deflections would have resulted in conviction of charges if not for the Deflection Program, then the Deflection Program would have saved the local justice system $601,512," a SIROW report said.
The Deflection program also utilized TPD's Angel Program which allows for individuals to approach officers to receive treatment assistance without being charged for drug possession. 63 individuals used the Angel program referral over the past three years.
CODAC Health, Recovery & Wellness partnered with TPD to help provide these individuals with substance misuse treatment. 1,503 of the individuals deflected agreed to treatment.