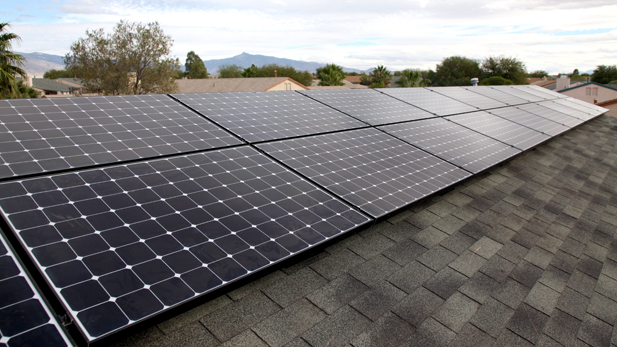 A 25-panel rooftop solar power array.

Yoohyun Jung
Listen:
Tucson Electric Power, Unisource Energy and Arizona Public Service are asking for donations to help cover the cost of installing solar panels on homes built by Habitat for Humanity.
The Arizona Corporation Commission approved the Voluntary Solar Program late last year. After a slow start, utilities are now trying to get word out to the public.
Tax-deductible donations of any amount can be made on the power companies' websites or through the Arizona Community Foundation, the non-profit which is administrating the program.
While the utilities are accepting donations from anyone – not just customers – the panels will be installed on homes within their respective service territories. Habitat for Humanity will choose which houses get solar panels without input from the utilities.
"This voluntary contribution program provides an avenue for individuals to directly support rooftop solar through voluntary, tax-deductible contributions, thus, bringing the technology to individuals who may have not had access to it," Commissioner Bob Burns said in a press release.