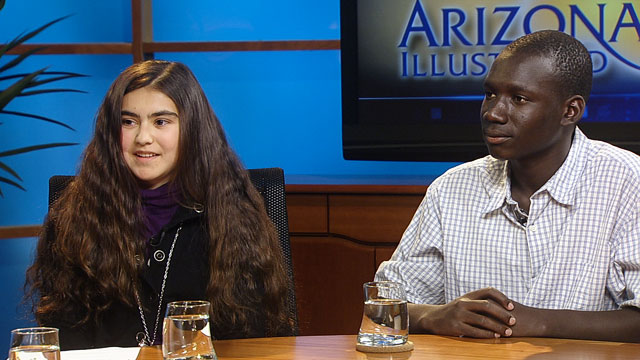 Student poets Samantha Neville (left) and Ochana Otto compete in poetry recitation.

AZPM
Poetry Outloud is a national event where students compete in poetry recitation within their schools, statewide and across the country.

Ochana Otto returns to the event in his second competition as a junior at Tucson Magnet High School. Otto came to this country as a refugee from Sudan in 2006, and placed in the top five in the competition last year.

Samantha Neville, a freshman, is entering her first competition. The students talk about the meaning and value of poetry, and how the recitation augments their studies and their lives.
Otto's selectioni: "Her Head," by Joan Murray
Nevile's selection: "I Am the People, the Mob," by Carl Sandburg

This year's competition takes place at Tucson Magnet High School on Friday, February 28 at 6:00 p.m.
Kimberly Craft interviews two student poets.
AZPM