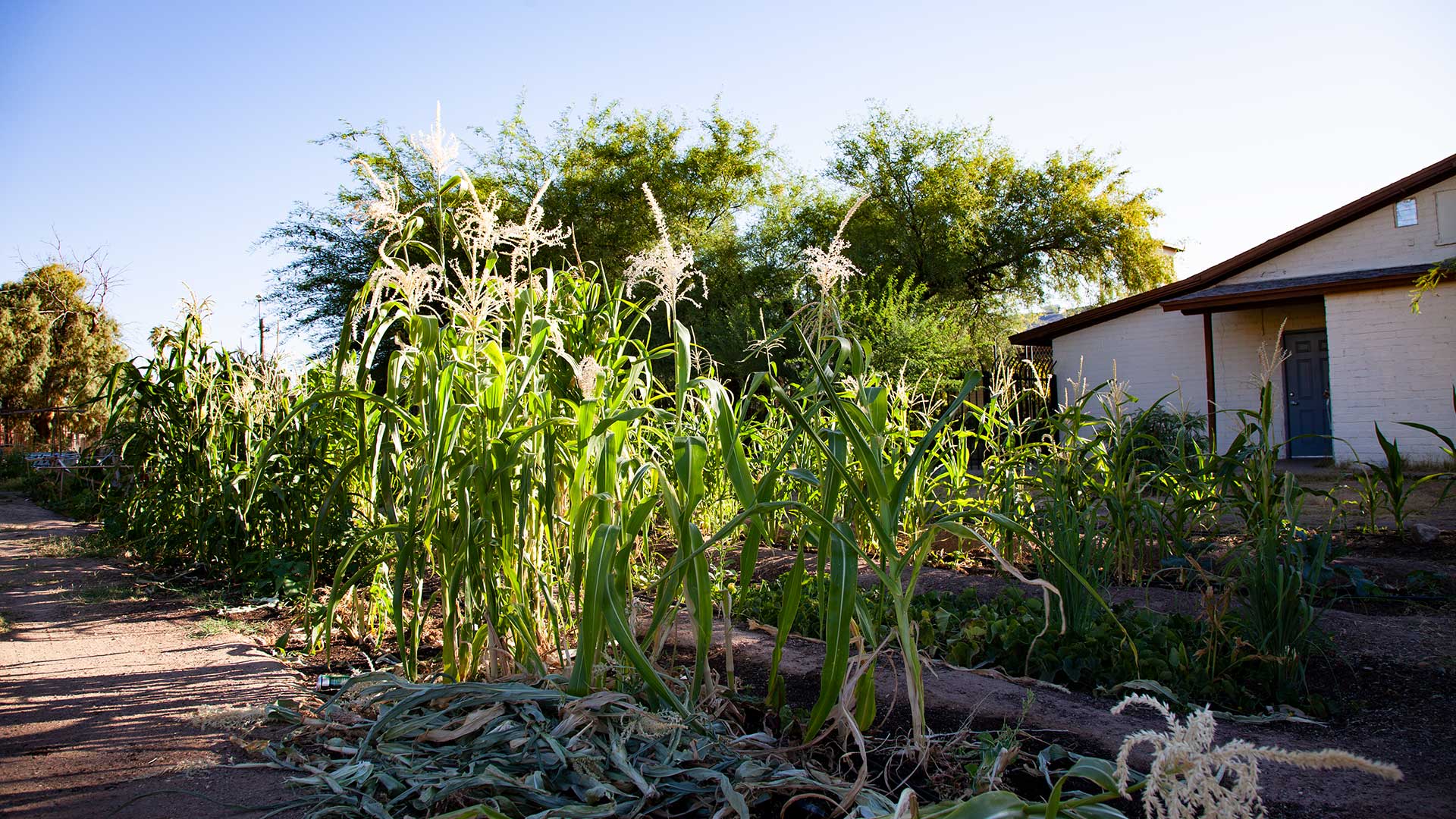 Vegetables grow in the "Literacy Garden," adjacent to the nonprofit Literacy Connects in the Amphi neighborhood.
Nick O'Gara/AZPM
When the cicadas take a break from their harsh chant in the late summer afternoon, you can hear wind jostle the corn growing in a garden in Tucson's Amphi neighborhood. The plots here are tended by refugees, clients of the International Rescue Committee. Over on the west side of the garden there's a door to the nonprofit Literacy Connects where people are studying for GED tests. Next to Literacy Connects, the rising angles of nine houses are taking their basic shape, under construction by Habitat for Humanity Tucson.
Susan Friese, community engagement director at Literacy Connects, shows off the poster mock-ups to demonstrate what it all will look like when the houses are done, connecting the garden, Literacy Connects and the families that could be moving in within the year.
"It will be great for the kids to just be able to come right over, and have a safe place where they can be in the afternoon and in the summertime," Friese says.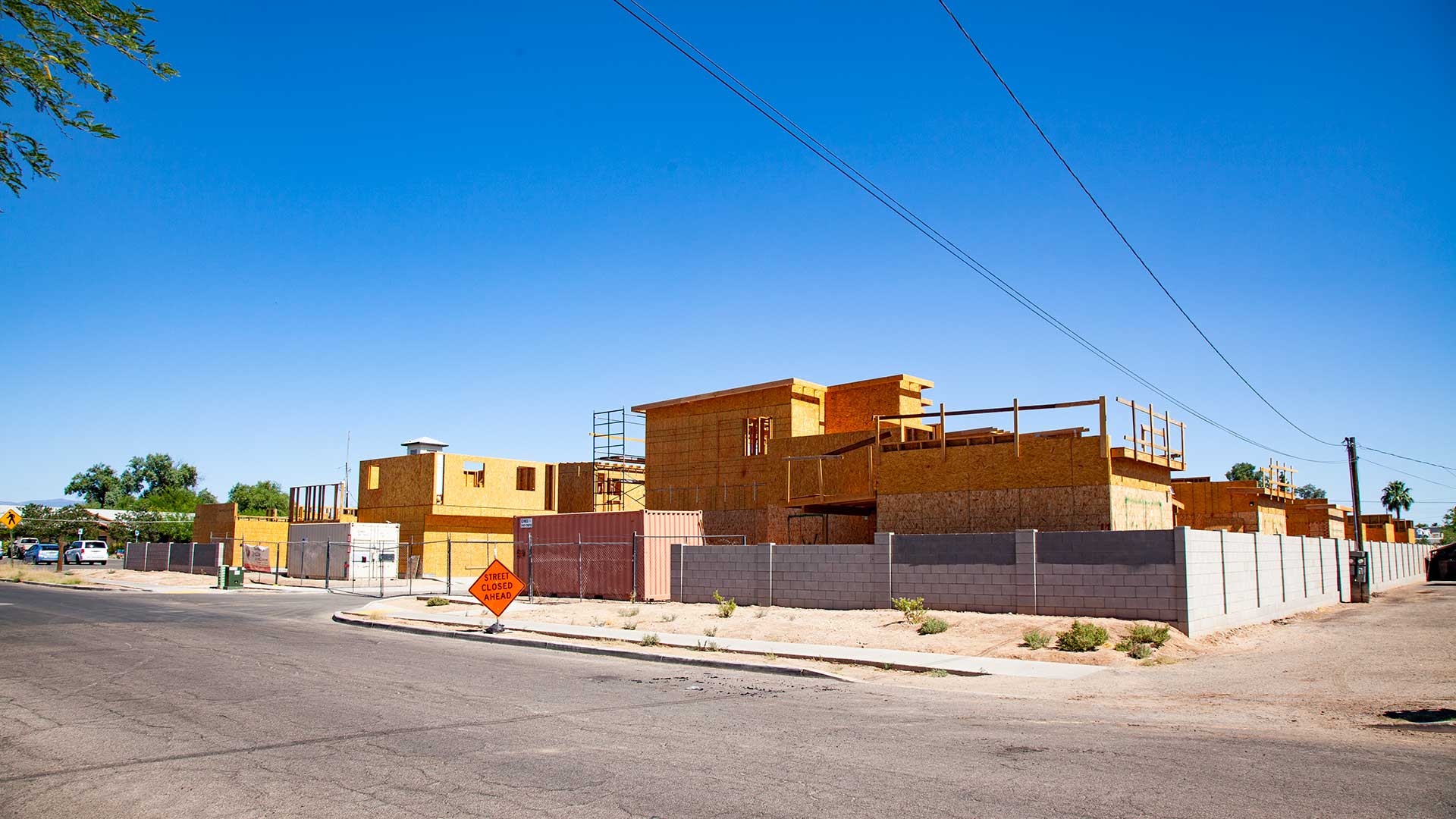 VIEW LARGER Nine Habitat for Humanity homes are going in at a cul de sac next to Literacy Connects.

Nick O'Gara/AZPM
These connected spaces — the garden, Literacy Connects and the houses — convene many of the players and elements of a project that brings the Amphi neighborhood into focus. The three groups are part of a coalition formed in conjunction with a Habitat for Humanity initiative that folds in the participation of the residents and looks at community capacity building over time.
Amphi was selected as one of 10 communities in the country for a five-year look at a quality of life framework. Habitat Tucson CEO T. VanHook says the project is better understood as a kind of evaluation. She says it doesn't really change the work Habitat Tucson has already been doing, and builds on already-existing collaboration, but it's a way to look at outcomes.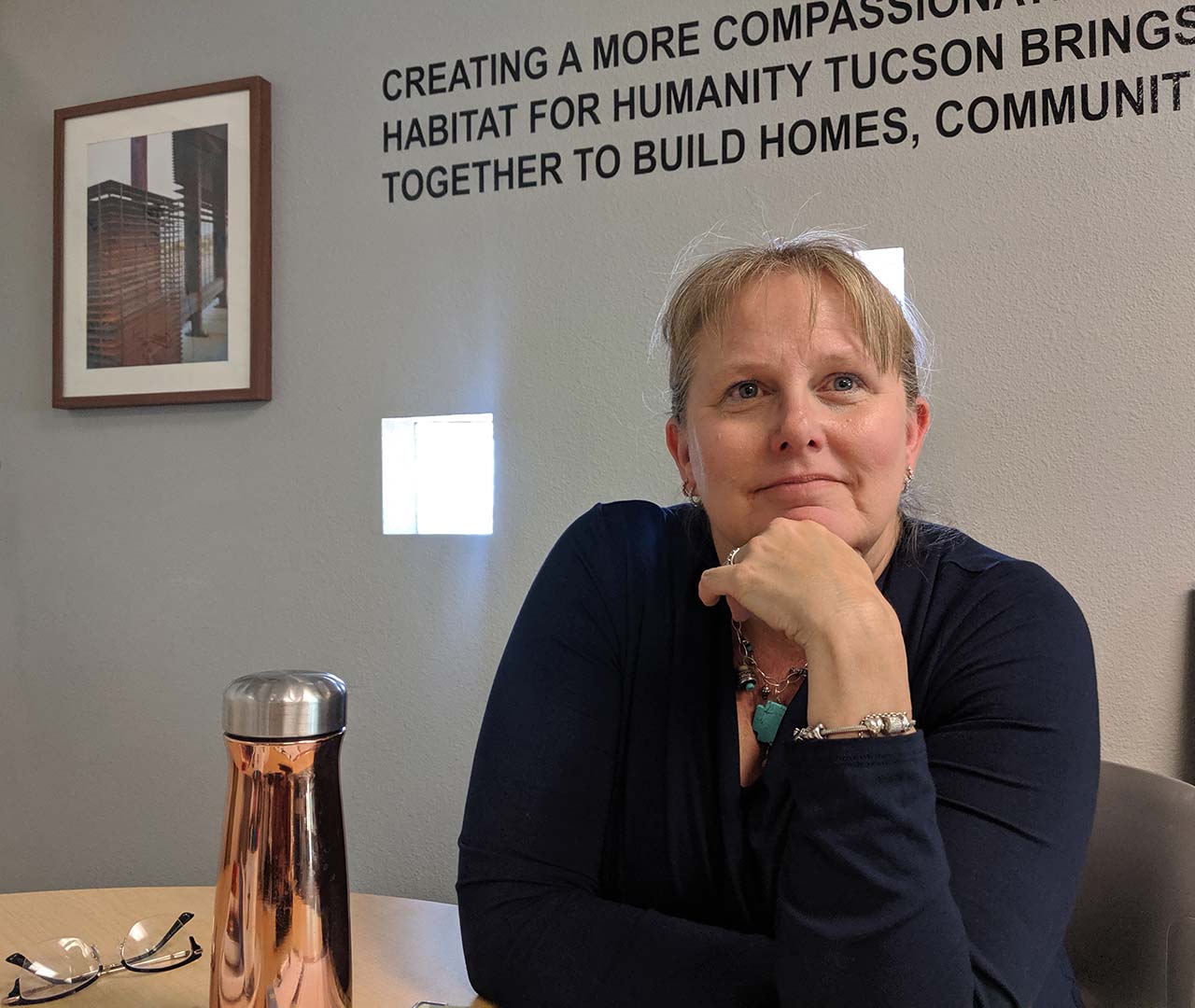 VIEW LARGER Habitat for Humanity Tucson CEO T. VanHook at the nonprofit's headquarters, June 2019.

Nick O'Gara/AZPM
"We're looking for a way to show people that their investment in a community pays off for everyone."
That kind of work involves collaboration with other nonprofits, the city's Ward 3 office, law enforcement, a University of Arizona project and neighbors. The coalition organizes neighborhood cleanups and education events. Habitat is repairing and building homes.
VanHook says the focus is on more than just housing, and that an essential element is to work with residents to build a vision of the community.
"Every time we go into a focus neighborhood we do kind of the same things. We don't go in and just say, 'Hi, we're here. We're gonna build. We're the great saviors, Habitat for Humanity.' We go in in advance. We talk with neighbors, we work on the issues they have."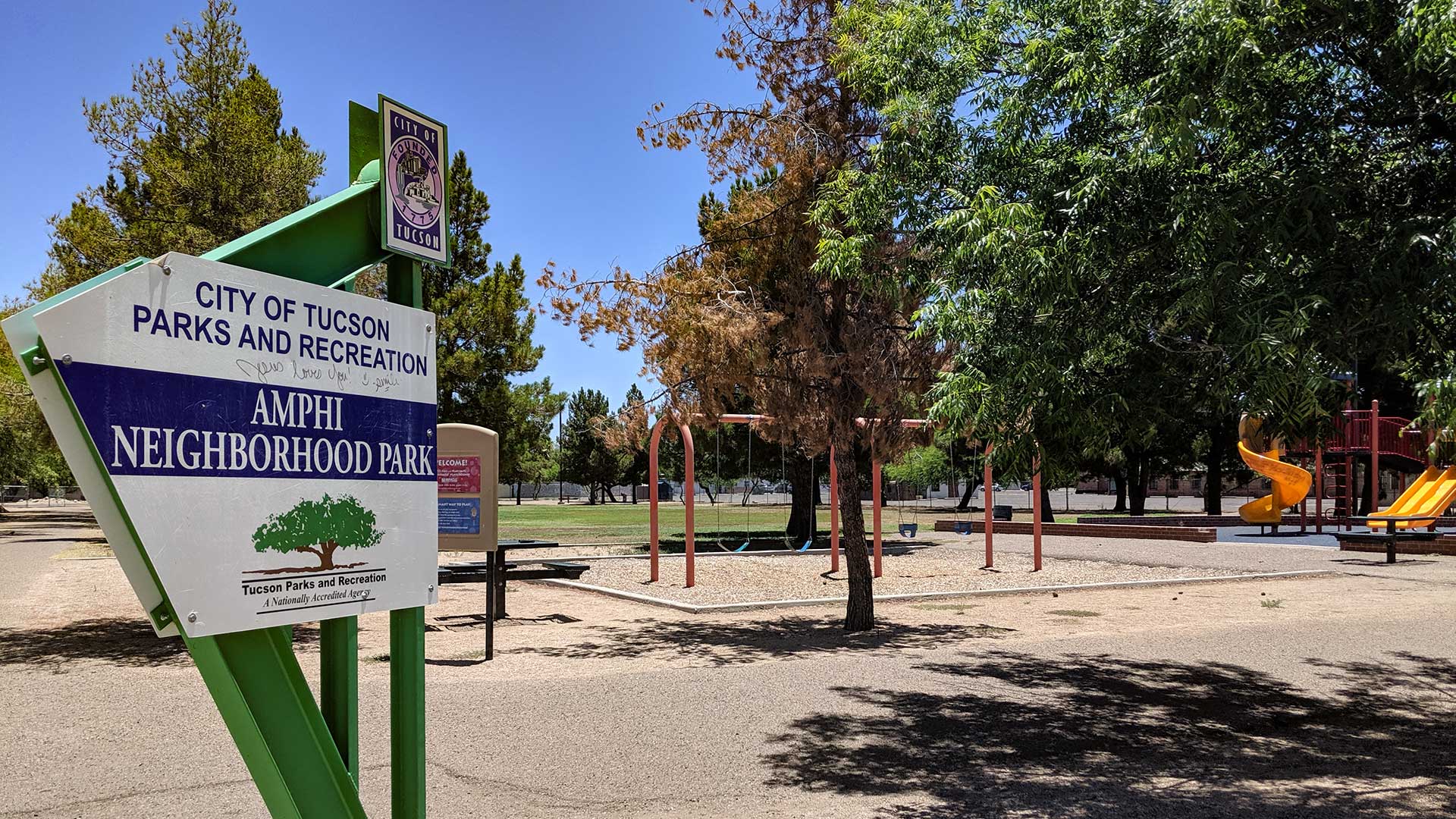 VIEW LARGER Amphi Neighborhood Park, June 2019.

Nick O'Gara/AZPM
Amphi is about a square mile in Tucson's midtown. The neighborhood association puts the limits at Roger Road to the north and Fort Lowell to the south, between First and Oracle. The International Rescue Committee said last year the community was host to around 20 refugee families and 30 languages. While it's diverse, VanHook says neighborhood numbers paint a difficult picture.
"When you look at the income demographics, it's going to be very frightening for your listeners."
The University of Arizona says 43.7% of residents live below the poverty threshold, and that Amphi High School sees yearly turnover in its classrooms of 46%. More than 80% of the neighborhood rents, rather than owns, their homes.
VanHook emphasizes that the hardworking families in the neighborhood would rather dispense with any kind of pity, and are instead interested in things like skills, assistance and basic amenities.
"I think revitalization in this context is really disrespectful to the really vibrant community the neighbors have. We want to accentuate that, find out where the barriers are. ... It's about building a network and building a group to identify needs, and address those."
Community meetings bring up some of those unique needs, as will the surveys conducted throughout the five years of the study. Those surveys focus on housing, but also on indicators along a quality of life continuum: food, medical care, safety, education and other factors that can help break the cycle of poverty.
For now, that vision is anecdotal. For example, VanHook says refugees in the neighborhood have asked for more garden space. But the community also has concerns that should sound familiar: education, safe streets, less crime, affordable and safe housing.
"Amphi's a very impoverished neighborhood with really amazing people that are working hard to help each other and help their families, and so we just want to help with those strengths," VanHook says.
VanHook says those nine houses under construction, within sight of the garden in the heart of the neighborhood, are just the beginning. After five years, she hopes the study can show what a difference their model of community capacity building can make in people's lives.

Part of a AZPM news radio series covering housing and issues of access, affordability, historic discrimination, cultural identity, and the changing neighborhoods of Tucson. More from this series
here
.