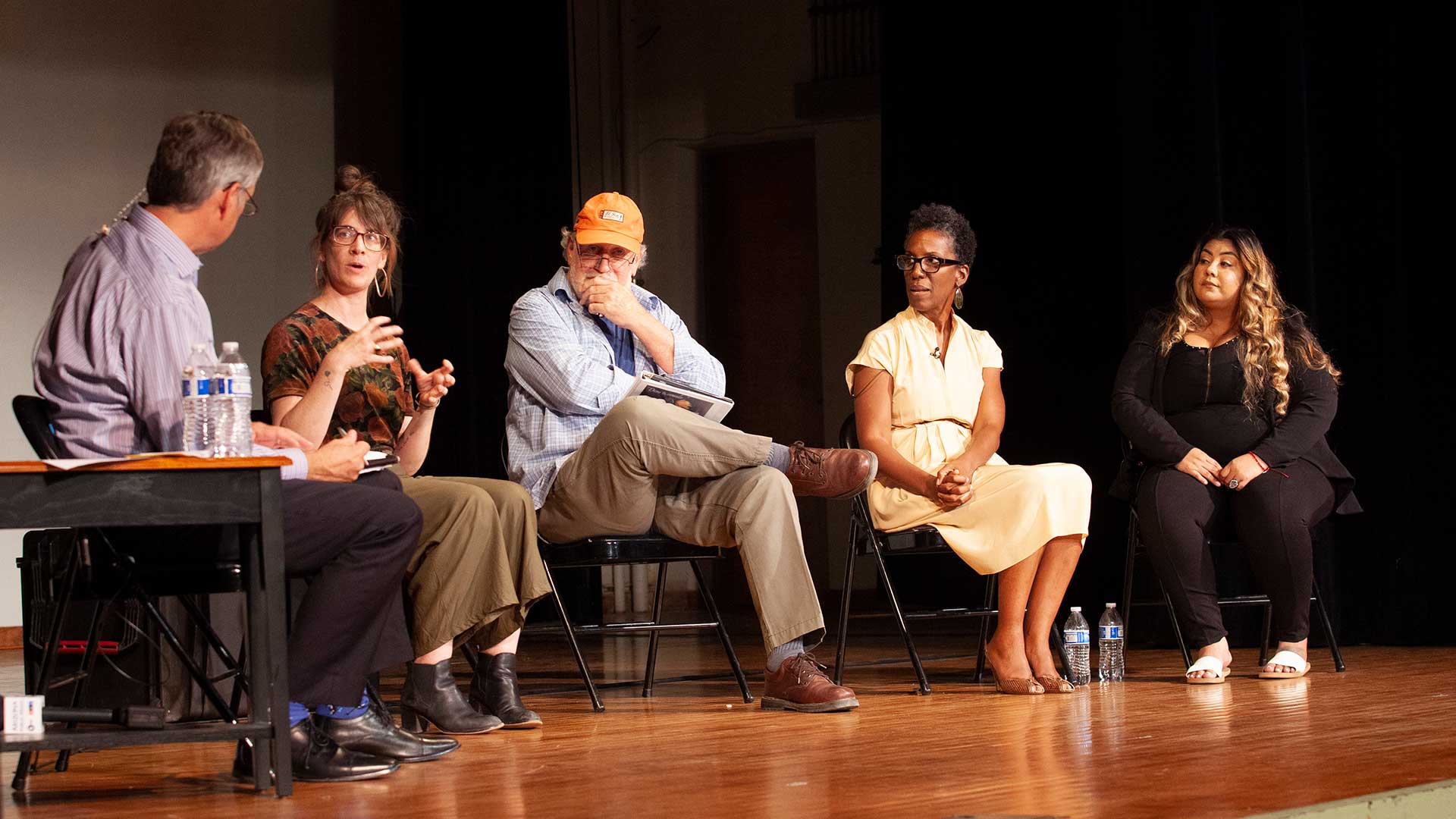 From left, The Buzz host Christopher Conover, Lisette DeMars, Scott Egan, Debi Chess Mabi and Gracie Soto.
Jordan Chin/AZPM
Gentrification is on the minds of many, especially in Tucson's downtown and westside neighborhoods. In recent years, those areas have seen the growth of student housing developments, infill projects, and the "flipping" of homes in formerly working-class or lower-income neighborhoods.
How can Tucson and Pima County foster economic development, affordable housing and community building in ways that respect the residents and character of neighborhoods? We asked that question of two panels at a community discussion taped in front of a live audience at the Dunbar Auditorium on July 24.
We also delved into many questions from the audience. Watch the full show below:
---
We split the show into two panels. Our first featured people involved in development and housing:
Corky Poster, architect and principal planner at Poster Frost Mirto
Betty Villegas, former director of the Pima County Housing Center
Jesus Bonillas, co-founder of local developer The Common Group
The first panel discussed the meaning of gentrification, the importance of building affordable housing, protections for renters and a few of the challenges that exist around the issue.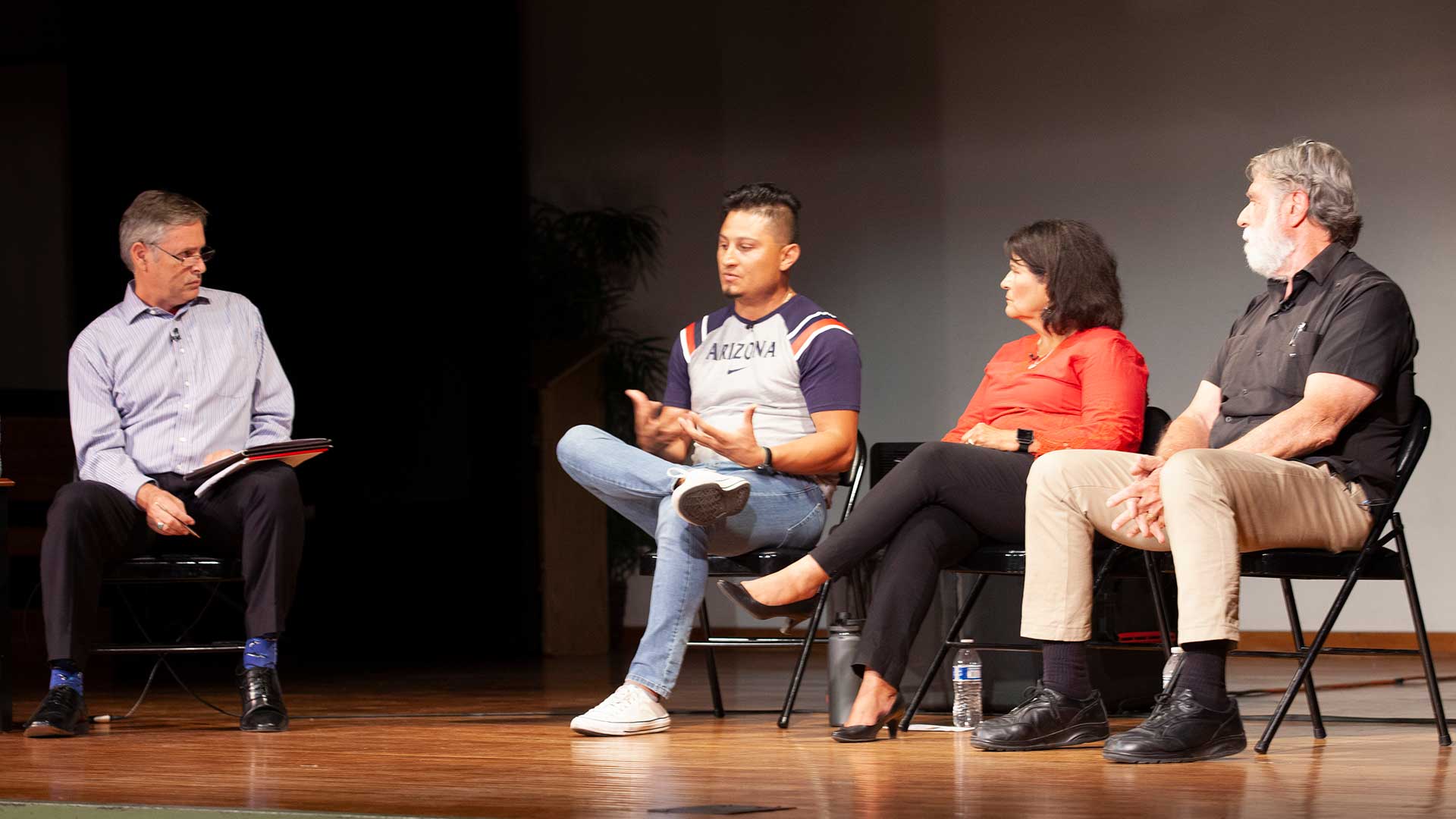 VIEW LARGER From left, The Buzz host Christopher Conover, Jesus Bonillas, Betty Villegas and Corky Poster.

Jordan Chin/AZPM
"I think you have to look at the underlying issue of why neighborhoods change and why aren't second or third-generation family members seeing value in the neighborhood where their grandmother or grandfather lives," said Jesus Bonillas. "How do we restore value in these old neighborhoods so that my generation and generations behind me can see value and want to live there?"
Betty Villegas said even in downtown where dedicated affordable housing projects exists, mid-range affordable workforce housing is disappearing as developers take advantage of incentives to build. "While [developers'] taxes are being waived, all of the other residents and businesses, their taxes are going up. So there's an imbalance, and I think that's where some of the frustration is," she said.
"Building and developing permanent affordable housing is, in my experience, the very best first effort in preserving the affordability of neighborhoods," said Corky Poster. But he said there are also other ways to revitalize older neighborhoods, like those around the University of Arizona. For example, he pointed to the Miles School, which is lottery-based, meaning current neighborhood students aren't guaranteed to get in.
"TUSD, for example, could encourage young families to move into what I think will be vacated landlord houses [around the university], by incentivizing and then getting families who could then walk to a school that is valued."
---

Part of a AZPM news radio series covering housing and issues of access, affordability, historic discrimination, cultural identity, and the changing neighborhoods of Tucson. More from this series
here
.
---
Our second panel featured people representing their neighborhoods:
Gracie Soto from Barrio Anita
Scott Egan from Barrio Hollywood
Debi Chess Mabie from Dunbar Spring
Lisette Demars from West University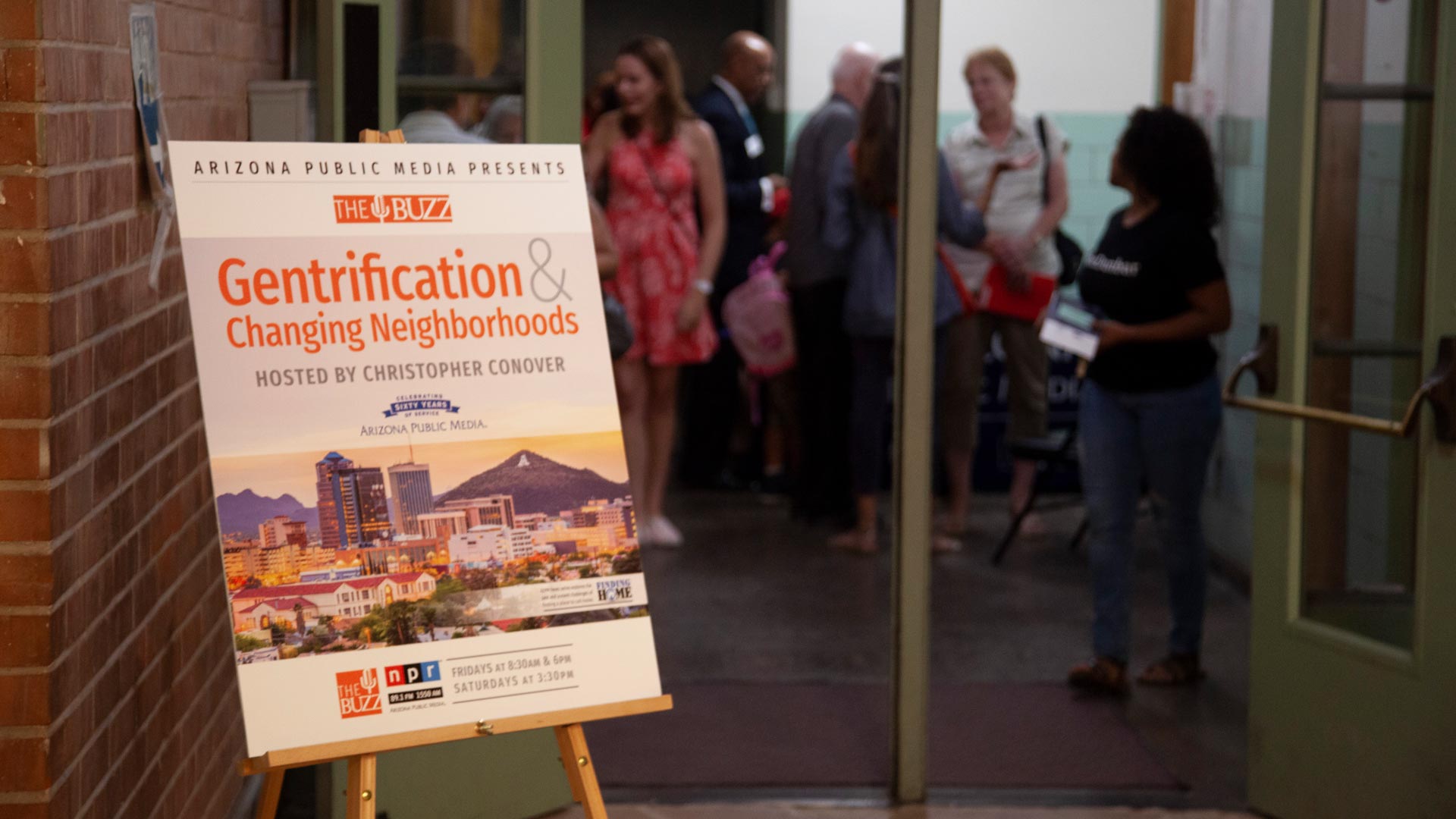 VIEW LARGER Outside The Buzz live event on gentrification at Dunbar Auditorium, July 25, 2019.

AZPM
Each panelist described how they've seen their neighborhood change.
"It was dormant for a long time. And these last couple of years people have noticed that their neighborhoods were changing and some of them weren't happy with it, and I think that's where the fight comes in with gentrification. So I see a lot of movement now in my neighborhood as far as wanting to fight for homes and keeping their nanas and their families in their neighborhoods," Gracie Soto said.
"I think what isn't discussed in this conversation about gentrification is the political power of neighborhood associations," said Debi Chess Mabie. She said the goals of the Dunbar Pavilion — to preserve and elevate African American culture and history — aren't necessarily the same as the surrounding Dunbar Spring neighborhood. "And so, as we work to preserve this space, sometimes the neighborhood association is not our best ally," Mabie said.
Scott Egan told the story of how Barrio Hollywood united to fight the city of Tucson when the city tried to sell the El Rio Golf course to a developer. "They tried everything to sell that property — to come in and wipe out a crucial space for our neighborhood," he said. "It caused a lot of conflict with some of the businesses in the neighborhood, but we won at the end and it was through fighting hard and uniting."
Lisette DeMars related the West University neighborhood's work to create a community benefits agreement with the development taking over the spot held by Flycatcher on Fourth Avenue and Sixth Street.
"So our neighborhood has really activated in the last couple of years to work with the developers so we're not developed on top of but we're developing in partnership with them. It's been a steep learning curve, but we've had some recent successes in partnership with the Fourth Avenue Coalition."

The Buzz
airs Fridays at 8:30 a.m. and 6 p.m. and Saturdays at 3:30 p.m. on NPR 89.1. You can subscribe to our podcast on
iTunes
and NPR One. See more from
The Buzz
.