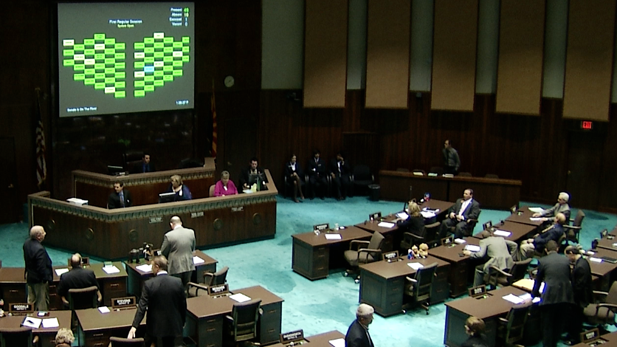 The Arizona House of Representatives, in a 2013 floor session.

azpm
Legislation automatically adjusting tax brackets each year to account for inflation has passed the Arizona House on a mainly party line vote of 38-21.
House Bill 2001, sponsored by Republican Rep. Justin Olson, prevents taxpayers from being pushed into higher tax brackets if they get small raises. Olson says that a tax increase should occur only as a deliberate action of the Legislature and not in a de facto manner.
Democratic efforts to make the indexing contingent on settling a school funding lawsuit failed last week.
The Republican-controlled Legislature for several years ignored a constitutional requirement to make inflation adjustments in funding for public schools. Last year, a judge ruled and was upheld by the state Supreme Court that the state had to make the inflation payments, of about $317 million.