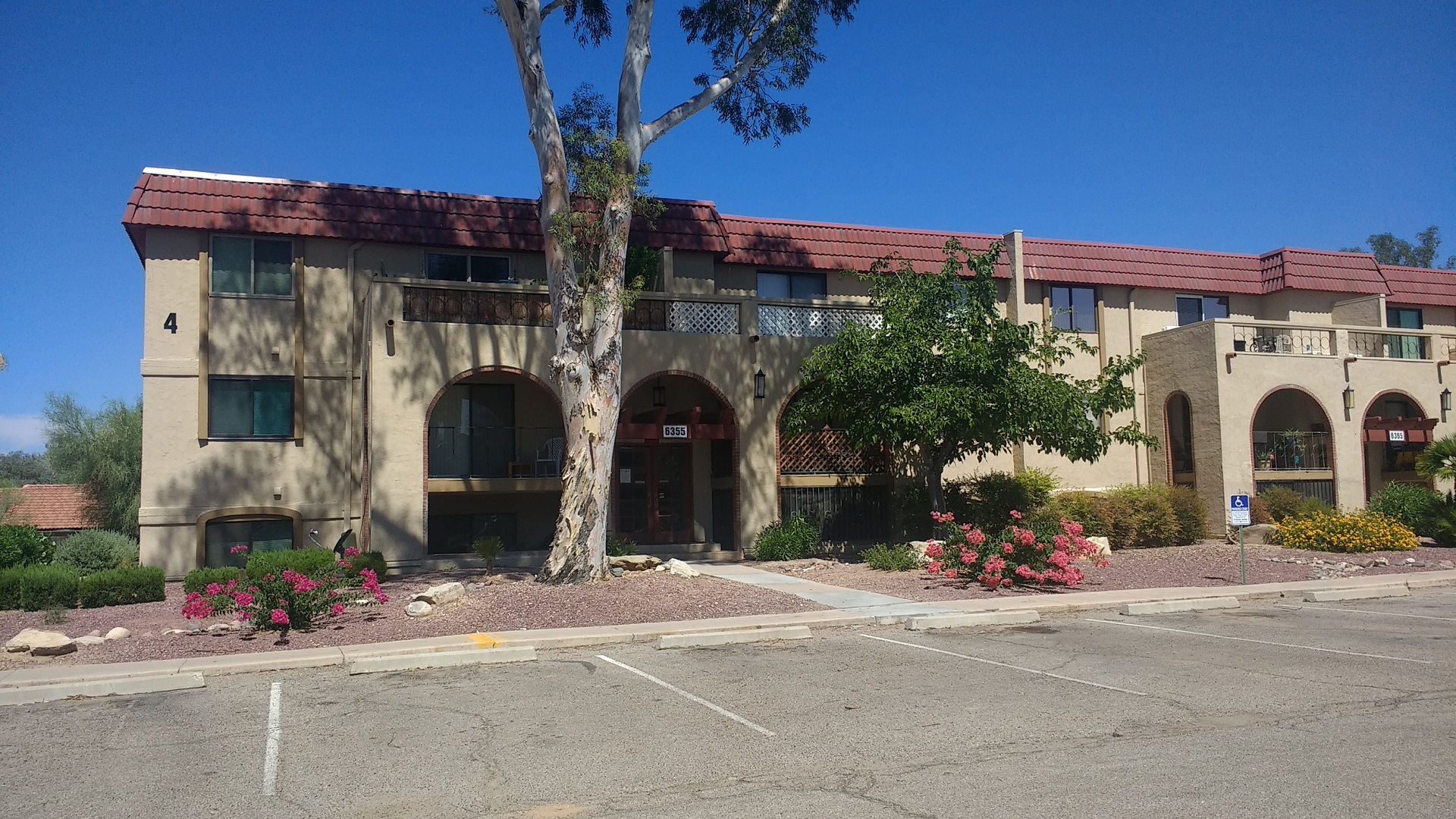 Barcelona Manor, a northwest Tucson condominium built in 1972. A one bedroom unit in this development that sold for $36,400 in 2013 was advertised for $78,000 in 2019 — a 114% increase over six years. Buyers are finding similar changes across the low-cost Tucson real estate market.
Steve Jess/AZPM
For people who can afford to buy a place of their own, the problem isn't just finding a home, it's buying that home before someone else does.
Open up the Zillow real-estate website, and on many listings for houses or condos in Tucson, you'll find a warning: "This is a seller's market. There are more interested buyers than homes for sale." That's putting it mildly.
"[It] seems like they come on the market and before I can even make an offer there's already several offers on it, and it's a challenge for some buyers," said realtor Devlin Shrewsbury.

I caught up with Shrewsbury at a recent open house on Tucson's northwest side. He was showing a one-bedroom furnished condo that last sold in 2013 for $36,000. The current asking price is $78,000 — more than double its last selling price. The people we spoke with liked the property, but not the price.
"It used to be a lot cheaper," said shopper Cindy Holbrook, who was looking for a place for her son. "Now it's like ... whoo! Like this one: It's furnished. I don't want the furnishing, but it's more than I would spend on it."
Jan Arnold is a retiree who says she's tired of the rent increases at the apartment she shares with her daughter. Together they're hoping to find someplace where they can lock in an affordable mortgage payment.
"It used to be a lot cheaper. Now it's like ... whoo!"
"I live on a fixed income and I would have a very hard time surviving on my own if it wasn't for the fact that my adopted daughter and I, we share expenses. The only way i could make it," Arnold said.
AZPM first reported on Tucson's tight housing market in March. Houses, condos and townhouses in the sub-$100,000 range have virtually disappeared as the economy has improved and housing supply has failed to keep up with demand.
The Tucson Association of Realtors publishes an analysis of the local housing market every month. The change in lower-priced housing is dramatic. In May 2014, the association reported 618 properties were for sale below $100,000 dollars. The most recent report, for May 2019, shows only 93 homes for sale in that range — an 85 percent drop in five years.
The association also tracks how long a home stays on the market. Last month, the average home took 37 days to sell, compared to 65 days back in 2014. But now, it's common to find homes listed on Monday, and marked "pending" or "contingent" by Wednesday.
Even if you act fast, and grab a house on this first day it's listed, at the asking price, that doesn't mean you'll get it. You still can be outbid by somebody else with a higher offer.
"Typically there's like more than one offer on the table and it's hard for other buyers that are only stuck with one price point," realtor Devlin Shrewsbury said.
Cash buyers can not only drive up the sales price of a home, they can close the deal faster. Back in March, we talked with Meghan Heddings, the executive director of Family Housing Resources of Tucson, a nonprofit agency that helps people afford housing. She says the extra paperwork involved in obtaining financial aid can mean buyers lose out.
"Our process in getting folks down payment assistance typically takes longer, so the closing process is longer, and so ... it puts us at a very big disadvantage, unfortunately," Heddings said.
The Tucson Association of Realtors says last month the median sales price of a Tucson home, that is the midpoint between the most and least expensive home sold, grew to $232,000. That's the highest it's been since the middle of the last decade, just before the housing bubble burst.
But if you think housing prices are just going to crash again, don't hold your breath. The last housing bubble was caused by speculation, while the current price run-up is being credited to the booming economy, not something that's likely to change overnight.
If you're still intent on buying on home now, the advice from our March report still applies: Keep saving for that down payment, and get your financing lined up before making an offer. That will increase your chances of finding home.

Part of a AZPM news radio series covering housing and issues of access, affordability, historic discrimination, cultural identity, and the changing neighborhoods of Tucson. More from this series
here
.